...the weekend's festivities, but only after taking a day off of work to recoup. Is it a day off when you do laundry, work on a pre-k Christmas project, run errands, and take pictures? Oh well, I feel more caught up now at least.
We had a great Halloween. The kids loved trick-or-treating and it was fun to see all the decorations in the neighborhood. I loved seeing all the adults that dressed up to hand out candy to the little ones and the houses were completely decked out.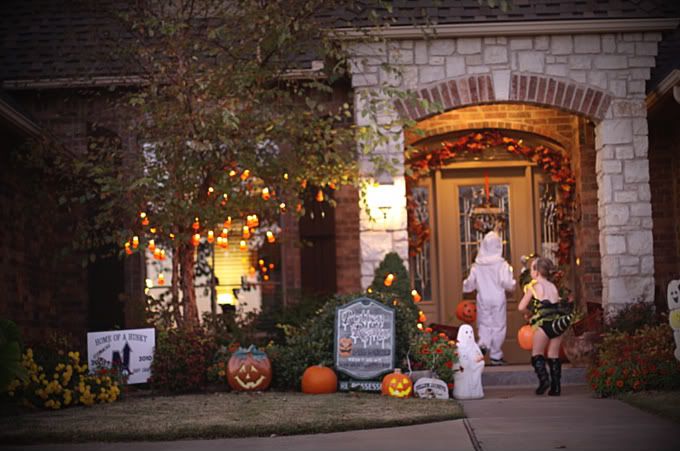 On our walk back to the house, the sky was all a-glow in a vibrant orange. Very fitting, I thought. :)
The Halloween carnival was lots of fun and I think all the kids enjoyed themselves. We ended up with 14 kids, and that was a good # to try to control for the games. I should have taken pictures of all the games that we played, or done a better job at taking pictures during the party, but I was too busy trying to control the chaos. Minnie Mouse joined us again at our house. She showed up to judge the costume contest and GiGi was thrilled to see her again. (Remember she came to GiGi's 3rd birthday as well.
HERE SHE IS
)