Do you remember

GiGi's

3rd birthday party? The one where I frantically searched for weeks on end for a Minnie Mouse costume to rent, but couldn't find one. I ended up purchasing the entire costume off of

ebay

. Yes, it was a little over the top, but my baby girl only turns three once, right? I have actually rented out the costume a couple of times, and had good intentions of putting it to use at the Children's Hospital, so the costume has been well loved over the last couple of years.
Minnie was a

HUGE

hit at the party and

GiGi

has talked about "THE REAL MINNIE that came to her party" on several occasions over the past couple of years. I was glad that I made her feel so special by buying hiring the "REAL MINNIE" for her party. :) While the Minnie costume has not been in use, it has been packaged away in a box and stored in the attic. THAT is, UNTIL we moved. Somehow, during the move last fall, Minnie got separated from her box, so the costume has been hiding in our spare bedroom closet under some blankets. I knew I needed to take the costume to the attic, but never got around to it. Last week, I noticed

GiGi

playing in the spare bedroom, and when I went to check on her, THERE WAS GIGI, IN THE CLOSET, AND HOLDING MINNIE'S HEAD IN DISBELIEF! Before I could think of anything to say, she looked up at me and said in a bewildered voice, "Mom, DID YOU KNOW MINNIE DIED IN OUR CLOSET?" I didn't know whether to laugh or cry. It was truly hysterical, but I thought that I had just traumatized my daughter for the rest of her life.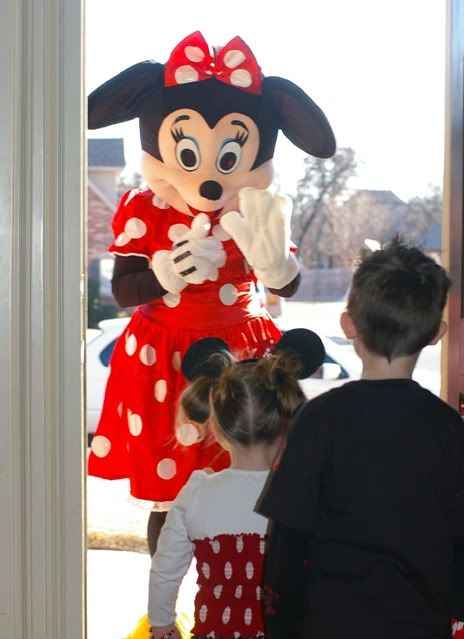 Actually, no tears were shed over Minnie, and the fun soon began. Of course,

GiGi

immediately wanted to be the "Real Minnie". She overcame the trauma quite well, don't you think?